The Laboratory B crew had a great time at this year's two day  Champlain Mini Maker Faire! This year we had additional support from FairPoint Communications to allow us to teach kids & adults how to solder.  We had really impressive students this year, many of whom have seen us before at the previous events.  Many people were coming back for their second or even third time.  Good work everybody and thanks for coming out to see us!  As usual, if you had trouble with your kit or ran out of time please feel free to swing by the Lab, but let us know your coming (Info@labotatoryb.org) Awesome!
Laboratory B is all set up and ready to see you at Champlain Mini Maker Faire this weekend!  The event is on Sat. October 4th 10am - 5pm,  and Sun. October 5th 11am-4pm at Shelburne Farms in Shelburne Vermont.
Lab B has been at the Maker Faire since it started 3 years ago, and like last year and the year before, we'll be teaching kids & adults how to solder! FairPoint Communications made a donation to help provide kits, and we have four kits from SparkFun in the mix this year; Weevil Eye, Big Time Watch, Simon Says & Mr. Roboto.
From our excerpt in the schedule:
"Join the folks at Laboratory B for a self-paced soldering workshop. We bring the soldering irons and the kits, you bring the desire to learn.  We will have kits from SparkFun and all the required supplies and safety gear for you to sit down and learn how to solder, and when you finish you take the kit home!  Have you soldered in the past but are not familiar with some of the newer techniques such as surface-mount soldering?  No problem!  There will be beginner kits, intermediate kits, and advanced level kits to fit all skill levels."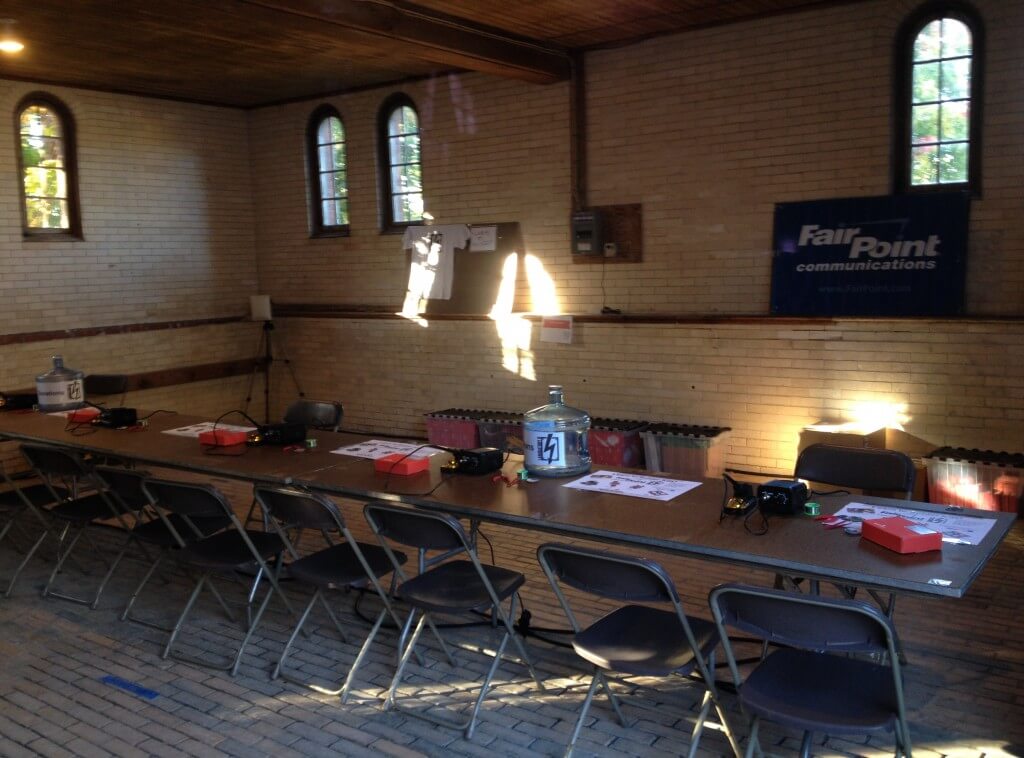 The Laboratory B crew had a great time at Champlain Valley Maker Faire. It was a gleeful marathon of teaching kids & adults to solder using the Sparkfun kits. Labortory B would like to thank in short order.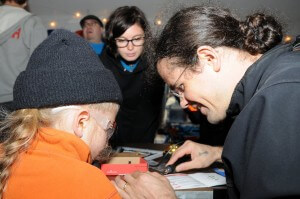 Jeff B & the rest of the SparkFun Crew
Jerome, Doug Andrea, John and all the other organizers of the Faire
 All the other Makers that came out, like John Cohn, Vermont Makers, RANV, Angela of Soft Circuits, Jaimie Mantzel, Filabot folks, Schuyler Towne, and everyone else we talked to but forgot to mention.
All the kids & adults who spent some time with us learning to solder. See people's expressions when they finished their kits was priceless!
To all the folks that stopped by the soldering station and wanted to come by the Lab; Open hours are 5:00 pm to 8 pm Tuesday and Thursday. Email info@laboratoryb.org or call us at 802.540.2524. We would love to meet with you where it is warm & dry.
Finally: It's the first of the month, so that means it's 2600 time on Friday! Meeting will be at the usual place the Game Lounge at 178 Main Street in Burlington Vermont from 5-8. It's on the third floor, so just keep going up. There will be signs to point the way.
Tell your friends and family that Champlain Maker Faire is sold out. They will be selling tickets at the door (either the Shelburne Farms gate, or the Coach Barn entrance) as visitors leave the event, so you  should show up after noon if you want to get in!
Laboratory B will have a booth at the Champlain Valley Maker Faire, the Faire is Saturday  September 29th from 10-7 at the Coach Barn at Shelburne Farms. At the booth we'll teach young and old how to solder! We'll have some awesome kits from SparkFun. You should buy tickets now to make sure you can get into the Faire.
Do you think having a Maker Faire in Vermont is cool! If so print out some posters and join the street team! Let people know!