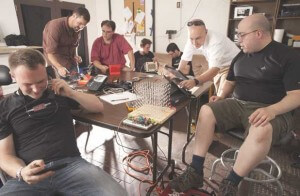 Laboratory B is Burlington, Vermont's  member supported hacker space. Started in the Fall of 2010, at the Burlington 2600 meeting. It is now located at 12 North St in Burlington Vt, just a short walk from downtown.
Laboratory B members are interested in  a wide variety of technologies and related issues. Project range from anti-surveillance fashion to cloud infrastructure.
We are looking to grow our awesomeness by hosting more events and building our infrastructure. Please see the events page to see what have going on.
We are incorporated in the state of Vermont as a non-profit bylaws can be found here.  We are also a federal 501(c)3 non-profit as of September 2013. Our determination later is here and our EIN is 45-3966737. Here is our GuideStar profile.
A short list of our current features: 
Microelectronics workbench.
150-ish Mbit/s of symmetric Internet access from Burlington Telecom
Free Wi-fi access
Plenty of desk space
Tea Station
Whiteboard
Features we are looking to build and acquire: ("the wishlist")
3D workstation & 3D Printer (we hear they are cool)
Laser Cutter! (soon)
Separate Physical Fabrication space (Dirty Lab)

2D Mill (Shopbot or BlackFoot)
Tables Saw
Drill Press (Wood & Metal)
Chop Saw  (Wood & Metal)

Vacuum Bot
Locked system(?)
Lab Access Control System