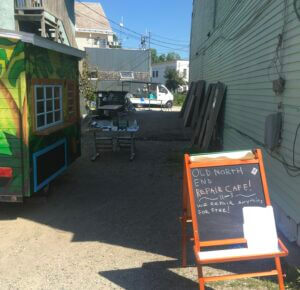 Old North End Repair Cafe is where you can bring stuff and volunteers fix it (or help you fix it yourself) for free! Just show up with it! We are an official Repair Cafe and are listed on repaircafe.org
The intention is to have them every third Saturday of the month. The next one is:
Saturday April 24th, 2021 from 11am – 3pm (we cannot accept new walk-ins after 2:30pm)
at 12-22 North Street, Burlington, VT
If you're interested in volunteering (or at least want to get an email when the next one is happening), please fill out our volunteer interest form.
The facebook event is here.
Old North End Repair Cafe is funded in part by a generous grant from the Burlington Ward 2 & 3 Neighborhood Planning Assembly. In 2020 we were featured in the news on NBC.
Statistics:
We have hosted 3 events our repair success rate is 53%. It seems low but some items were partially repaired and some items are damaged beyond repair. But there's always valuable information gained from troubleshooting!